Visita el stand de agroBRIDGES en la feria Fruit Attraction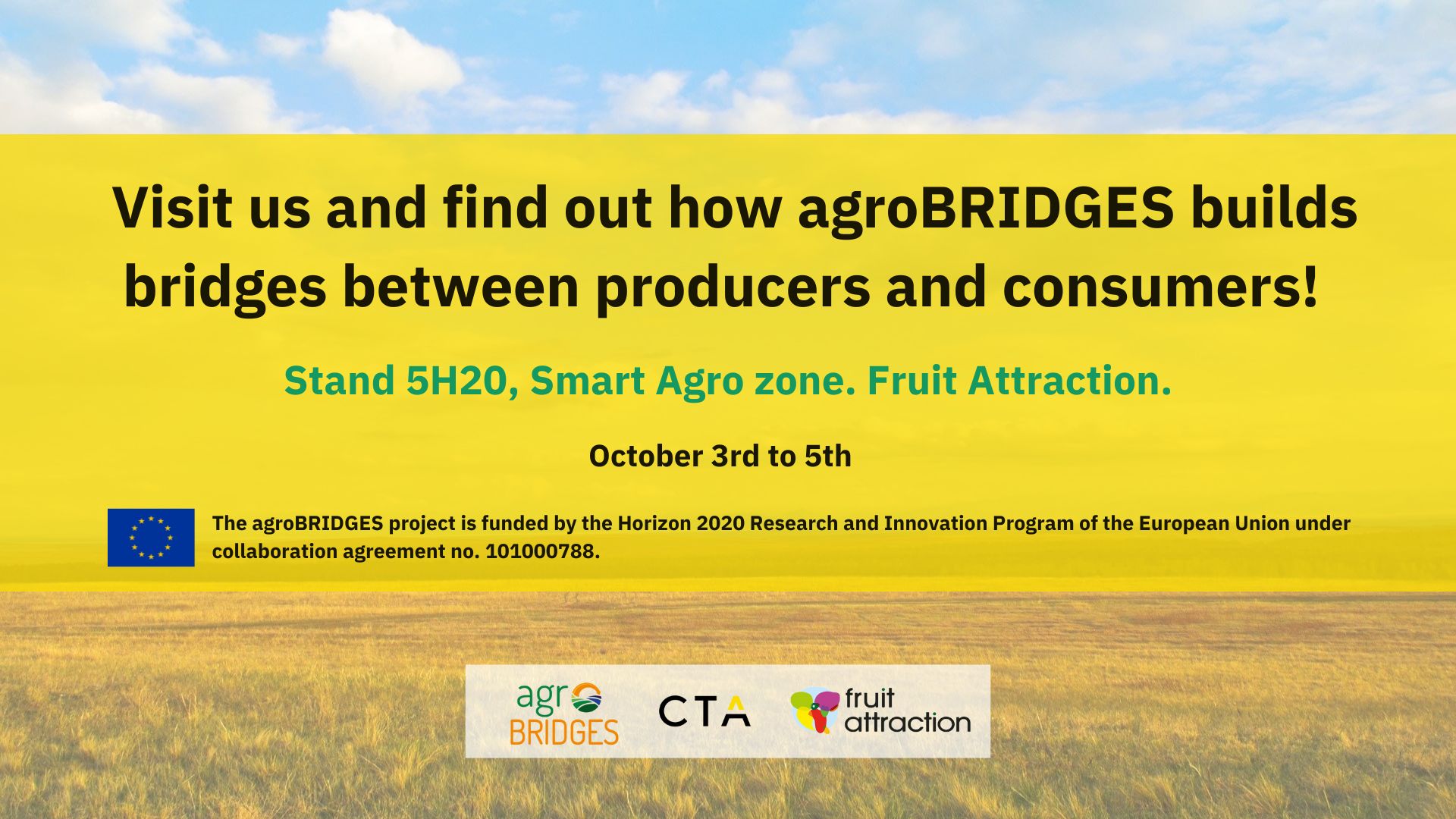 Event information
Place:

IFEMA. Hall 5, Stand 5H20 (Smart Agro Zone)
Adress:

Avda. del Partenón, 5. 28042 Madrid, Spain
Organization:

CTA
Web:
Date:

|
End:

|
CTA, como socio del proyecto europeo agroBRIDGES, estará presente en la feria Fruit Attraction de Madrid, uno de los mayores eventos del sector de las frutas y vegetales de Europa. Fruit Attraction, que cumple este año su 15 aniversario, contó en 2022 con cerca de 90.000 visitantes profesionales de más de 130 países.
Del 3 al 5 de octubre, en el stand 5H20 situado en el pabellón 5 de IFEMA (Zona Smart Agro), recibiremos la visita de los socios y colaboradores del proyecto agroBRIDGES. En el encuentro explicaremos al público de la feria la importancia de esta iniciativa europea diseñada para impulsar los Canales Cortos de Comercialización Alimentaria. Asimismo, durante el evento presentaremos públicamente la agroBRIDGES Toolbox, un paquete de 12 herramientas digitales creadas para acercar a los productores agroalimentarios y los consumidores.
El stand de agroBRIDGES contará con un espacio para que los visitantes e interesados puedan mantener reuniones bilaterales.
¡No te lo pierdas!
Information
CTA, as a partner of the European project agroBRIDGES, will be present at the Fruit Attraction fair in Madrid, one of the largest events in the fruit and vegetable sector in Europe. Fuit Attraction, which celebrates its 15th anniversary this year, had nearly 90,000 professional visitors from more than 130 countries in 2022.
From October 3 to 5, at stand 5H20 located in IFEMA Hall 5 (Smart Agro Zone), we will receive a visit from the partners and collaborators of the agroBRIDGES project. During the event, we will explain to visitors this European initiative designed to promote Short Food Supply Chains. Also, we will publicly present the agroBRIDGES Toolbox, a package of 12 digital tools created to bring agri-food producers and consumers closer together.
The agroBRIDGES stand will have a space for visitors and interested parties to hold bilateral meetings.
Do not miss it!